Just before the country gets set at the start line for tourism, we travelled to Mykonos to discuss thoughts, forecasts and risks for the 2020 season, which is expected – according to what we know to date – to launch in early July.
This will be a spring to remember for all locals in Mykonos. The island belongs to its residents. The locals enjoy summer days. At Psarou, the famous sandy beach featuring, perhaps, the most expensive sunbeds on the island, local families and friends enjoy a swim. At Paragka, where dj sets use to rock the house, only wild rabbits and peacocks roam. At Gialos too, the elderly with their traditional black cap have the harbour all to themselves to walk and catch up with the latest, while fishermen spread their catch on the marble bench outside Agios Nikolaos chapel. Some even dare to reminisce the 80s and 90s, when tourism was mild – fewer people, smaller businesses, slower pace. But, for how long can the nostalgia of another era linger in Mykonos of 2 million tourists, where the high rents for shop-owners in Chora are soon due, the loan exposures for hotel investments and refurbishments require liquidity and, business owners and employees alike need to make meets end for the next winter?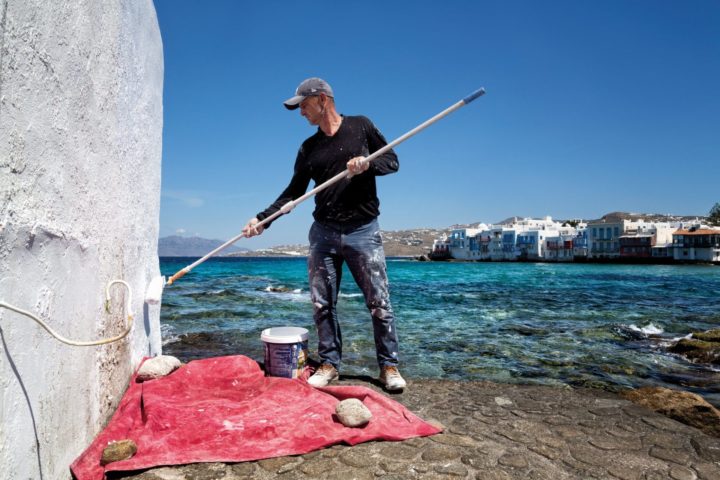 All set
It is the afternoon of the 8th of May when the first health protocols are announced for people travelling to Greece and news immediately spread around the world. I watch the telephone conversation between Afroditi Dellaporta, member of the Tourism Committee of the Municipality of Mykonos with her American friend who owns a holiday house on the island and has been anticipating the first announcements. The health part does not seem to concern him that much. He is young and healthy, he says. Moreover, the mandatory character of testing (as included in the initial announcements) makes him feel safe – he will be in an area with other people who will probably be healthy too. He believes that his insurance company will have to find a way to cover the new needs set for travelling abroad. He thinks about whether he should come early in the season, as soon as travelling is allowed by the American authorities or if it's better to wait and see how things go before he visits in late September. Another concern he has is whether other countries will allow travelling, so that his friends can also visit. However, apart from "when" and "how", his main concern is the restrictions to be imposed during his holidays. What this summer will be like on the island he has chosen for his socialising and parties. "Why come to Mykonos if I can't go to Jackie 'O to have a drink with my friends? Or go to a party at Nammos or Scorpio?", he wonders.
Twenty days later, nobody can tell what this summer will be like. The fluidity in tourism, both in terms of health protocols and in terms of financial impact, is unprecedented. "This is a multifaceted issue which, unless we put all the pieces together, we will be unable to make any forecast about who will open and when and how the entire season will go", said Angela Xarhoulakou, owner of Mykonos Luxury Travel, an incentive travel and corporate events company. Her business suffered huge losses and the majority of her customer base has transferred their reservations to 2021. She believes that state support for keeping her staff was very important, as it was for all other businesses too, but she is worried that the health protocols announced seem neither well examined, nor applicable in practice. "It makes no sense to have no vacant seat on the aeroplane and at the same time oblige a seven-seat bus to only carry two passengers and feature a plexiglass partition screen for the driver".
In the same context, seasonal staff members also express their concern regarding health protocols. "They ask us to comply with very strict ruled, while asking nothing from tourists. It's like we, employees, are dancing sirtaki alone on stage, while everybody else dances a different tune elsewhere. We are all together in this", said a hotel employee who just arrived on the island to work for the fifth consecutive year for the same company, who wanted to remain anonymous. He explained that employees are extremely worried about the relevant provisions for vulnerable groups, which will make many among them to hide any health conditions they may have, such as common chronic conditions, asthma or diabetes, to avoid losing their jobs. Besides, it is doubted whether it will be feasible to comply with the provision for accommodation in two-bed or even single-bed rooms for vulnerable group employees, especially on an island with a housing shortage so great, that cases of employees sleeping in shifts or living in container cabins have been reported. As for himself, he shares a rented house in Chora with three others. However, it is also argued that personnel cuts down to 50-75% in this season will offset any existing accommodation problem.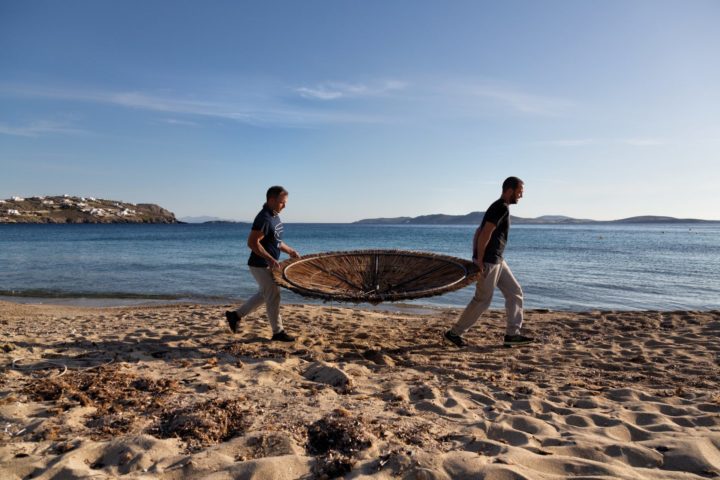 Cautious optimism for reservations
"On 25 May we recorded a number of new reservations that was higher than that of the cancellations of the day. It was the first time this happened since the onset of the crisis and this gives us hopes for the future", said Victor Matsas, top executive of WebHotelier, an on-line booking engine featuring more than 5,000 hotels in our country. "We start off the season with 70% losses and from now on we will have to see to what extent we can limit the loss". Mykonos seems to be doing far better than other destinations, confirmed John Giannatos, CEO of the company digital marketing Panadvert. The hotel search graphs he showed me indicate that, compared to last year and to other destinations, Mykonos and Santorini present the strongest recovery in the last few days. He notes that these recent developments are indeed a cause for optimism, but at the same time the trend for last-minute bookings is so strong this year, that renders it impossible to make a forecast.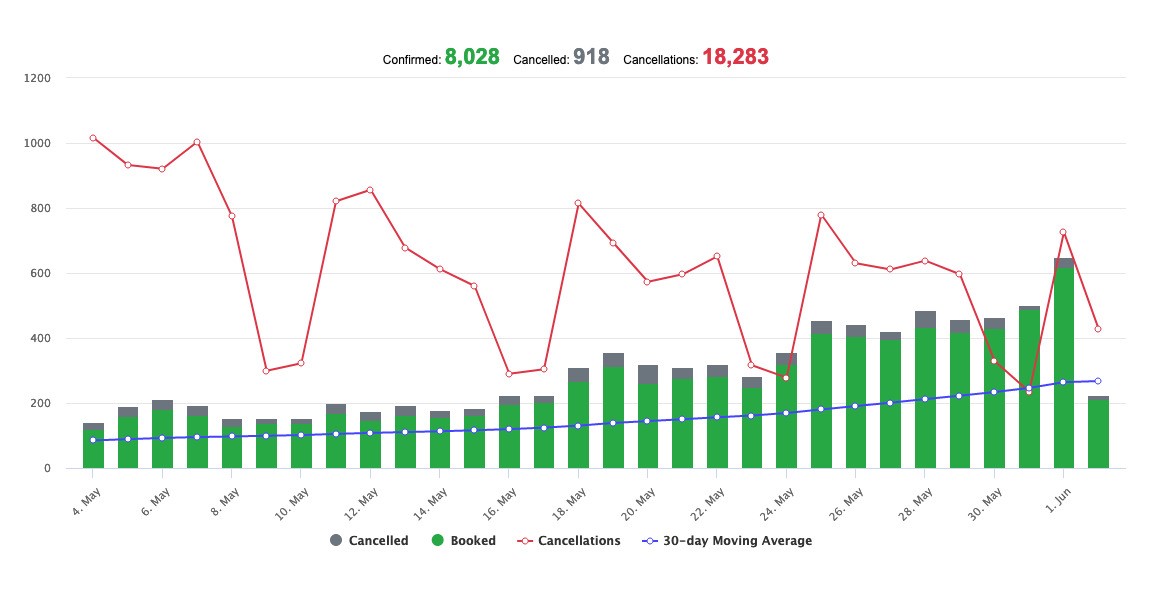 Despite the original numbness, the announcements gradually made show that the vast majority of hotels and restaurants on the island are ready to open. This decision of Mykonos entrepreneurs is not only an issue of financial and technical factors, but also a matter of prestige, a collective movement expected to empower the brand name of Mykonos and, therefore, of Greece. "It may be true that, as we like to say, Mykonos has its own algorithm of operation, but it always remains the flagship of Greek tourism, setting the pace for the entire product", according to the advertising and marketing expert. "It is imperative for the destination to show that it is ready to receive people. That there is no insecurity. Otherwise, how do we expect to convince frightened travellers to take the risk? The magic of the Greek summer is not enough on its own. We also need the reassurance from the other side too that "we are open and waiting".
Hoteliers and catering entrepreneurs I interviewed think it is feasible to apply the announced protocols, while most of them are already working to ensure even stricter measures, such as disinfection gates and regular tests for their staff. A policy of gradual opening and adjusting the experience to the new COVID era situation is the common ground of them all. Nikolas Ioannidis, owner of the luxurious five-star Belvedere Mykonos hotel, talks about the careful steps that must be taken and the creation of an even more private atmosphere in the hotel premises, to ensure that guests are feeling more comfortable. A new experience is also the point of reference for the general manager of Scorpios beach club, which this year will not be the party hotspot, but is designed to dominate as the ultimate sunset experience.
For many entrepreneurs, final decisions will be taken in the following week, as the big question remains whether tourists will finally come. Business owner, Christos Athanasiadis, shareholder of Santana beach club and Nice 'n Easy restaurants among other things, believes that visitors going to islands like Mykonos are only concerned about whether they will be allowed to travel. They belong to a younger age group, i.e. 20-40 y.o., and are not afraid of the coronavirus. If the main markets from where Mykonos draws its tourism – UK, USA, Italy, Germany, Switzerland, Australia and Canada – are open, then travellers will come without a doubt.
It may be too soon to talk about season winners and losers in Mykonos, but people in the market believe that villas and vessels are favoured in the left shares of the pie. However, despite the increased demand they refer to, platforms like airbnb feature offers of up to 60% reduced prices vs last year, a fact that leaves the final situation rather unclear. The great loser of the tourist season is certainly the cruise. Not only because it is harder to apply health safety measure, but also because -for now- there's very little interest from tourists.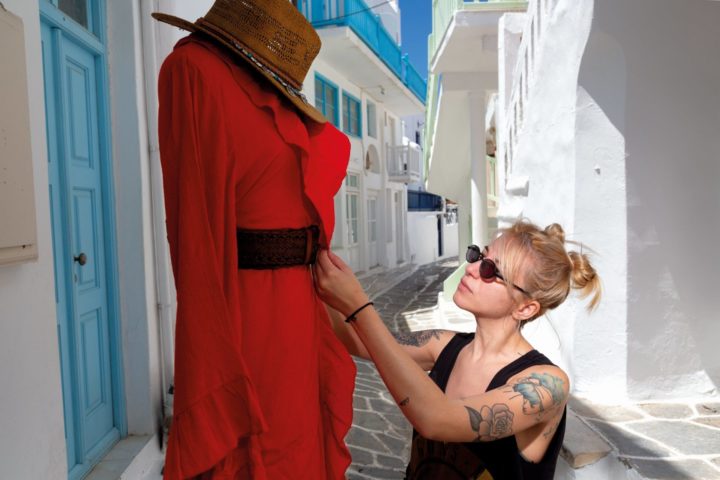 Looking ahead to 2021
The island already counts 90 lost days from the tourist period. On the 1st March, the first cruise ship would arrive in the port of Mykonos and launch the tourist season; this year instead, the first visitors are expected on 25 May, hotels will open their doors on 15 June and the first direct international flight is expected from Vienna on the 1st July 2020.
The three months of lost tourist income are reflected in many levels. "The Municipality has lost income from the beaches, public spaces and from resident fees. It is certain that the budget will be adjusted, but this is not a great concern, as we are a healthy municipality, without financial exposures and loans", said the Mayor, Konstantinos Koukas, in a first estimate. "The thing is that the loss – which is huge – will not affect only the local economy, but the national economy too. The VAT paid by Mykonos supports the national economy, the thousands of seasonal employees from across Greece are now supported by the national budget, while the catering industry too has suffered significant blows".
The greatest concern of all, including the Mayor and entrepreneurs, is to ensure compliance with the health protocols. "I want the day that the first visitors will arrive to be because it was right for them to arrive and not because of some wrong handling of regulations. If there are several cases, like in any other island, there is no way to handle it. I am afraid of the first visitor". The Mayor, trying to reinforce the sense of safety, placed thermal cameras at the port to identify febrile cases, has installed 2 ISOBOX cabins at the health centre accommodating 4 persons in total, while he also ensured medical equipment for on-site sample examination, to avoid the dispatch of samples to Athens.
Entrepreneurs of the island also express their concern about the impact of potential cases. Nikolas Ioannidis of Belvedere describes his fear of the uncharted waters of the day after. "Mykonos is an island where people come for the intense social life. If there is any [covid19] case, the risk of spreading the virus is great". Similar concerns were also raised by Nikos Varveris, owner of Interni restaurant and The Wild by Interi hotel. "Our focus must be 2021. It is a given that the financial loss will be enormous, but our goal remains to protect ourselves as best we can. Any [covid19] cases may cause negative publicity for our businesses and for our island. And then we will be at risk of losing the next season too, which would be disastrous.